Trial of Papuans over pro-independence rally begins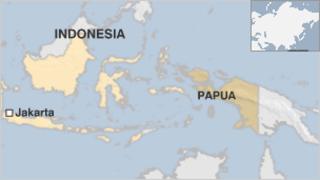 Five Papuan activists are on trial for raising an outlawed flag and declaring independence in eastern Indonesia.
The activists were part of a peaceful pro-independence rally in Papua province on 19 October 2011.
Rights groups have criticised the trial and called for it to be cancelled.
Papua became part of Indonesia in 1969 after a controversial election many Papuans say was a sham. A low-level war for independence has been waged in the province ever since.
"The defendants jointly tried to commit treason with the intention of allowing the country or part of the country to fall into the hands of the enemy," AFP news agency quoted Judge Jack L. Oktovianus as saying at the Jayapura district court.
"They acted together to declare Papua an independent region, which constitutes an act of treason," he added.
The Papuan activists rejected the court proceedings, saying that they had not done anything wrong.
They said they did not accept that Papua was part of Indonesia, therefore their declaration of independence was legal and not a violation of Indonesian law, reports BBC Indonesia correspondent Karishma Vaswani.
New York-based Human Rights Watch (HRW) has called for the trial to be cancelled, pointing out that the rally last year was peaceful and that it was police officers who shot into the crowd.
Three people were killed and hundreds more were arrested during the rally.
"It's appalling that a modern democratic nation like Indonesia continues to lock up people for organising a demonstration and expressing controversial views," HRW's Asia Deputy Director Elaine Pearson said in a statement.
Papua is officially divided into two provinces - Papua and West Papua - and Indonesia retains a large military presence there.
Formerly known as Irian Jaya, the province has been dogged by secessionist violence ever since Dutch colonial rule formally ended in 1962.