UN role for Sri Lanka ex-army General Shavendra Silva
By Charles Haviland
BBC News, Colombo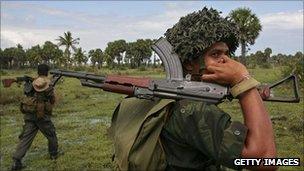 One of Sri Lanka's most controversial diplomats, an ex-army commander, has got a senior post advising the UN secretary general, the government says.
Major General Shavendra Silva, Sri Lanka's deputy ambassador to the UN, is the subject of a lawsuit in the US accusing him of war crimes.
Maj Gen Silva denies the charges. He is one of many military men given top diplomatic posts by Sri Lanka.
He will now be part of a group advising Secretary General Ban Ki-moon.
A Sri Lankan newspaper journalist told the BBC that he and other reporters were telephoned by Shavendra Silva, who informed them of his appointment to a Special Advisory Group on Peacekeeping Operations set up by the UN secretary general.
Maj Gen Silva says he will represent Asian countries on this body, advising Ban Ki-Moon on issues including payments to nations for their peacekeeping troops. Sri Lanka has peacekeeping soldiers in Haiti.
The government has also announced Maj Gen Silva's appointment but the UN office in Sri Lanka said it had no information on the matter.
As commander of the key 58 division in 2009 he was instrumental in the crushing defeat of the Tamil Tiger rebels, who were fighting for a separate homeland.
A private lawsuit is pending against him in the US filed on behalf of two Tamils who say his actions killed their family members and that he was a party to war crimes including the intentional shelling of civilians.
Human rights campaigners have linked him to the shooting of Tamil Tiger leaders trying to surrender.
The government rejects the allegations and says that one of the litigants is the widow of what it calls a "ruthless terrorist".
Maj Gen Silva's own website describes him as a "real hero". He is a bullish defender of his own actions, giving regular lectures in the US on Sri Lanka's military record.