Japan did not keep records of nuclear disaster meetings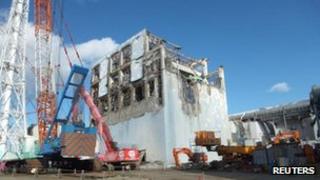 The Japanese government has admitted it failed to keep records of key meetings during the nuclear crisis last year.
Deputy PM Katsuya Okada has instructed ministers to produce summaries of the meetings retroactively by the end of February, an official said.
This has become a contentious issue for the government, adding to criticism of its disaster management.
The nuclear accident set off by the earthquake and tsunami in March 2011 was the worst since Chernobyl in 1986.
Earlier this week the government said that the country's nuclear disaster task-force, led by then-Prime Minister Naoto Kan, had no documented record of its decision-making process.
Such detailed notes are considered a key component of disaster management.
Trade Minister Yukio Edano, who was the main spokesman during the Fukushima crisis, apologised on Tuesday.
On Friday, Mr Okada confirmed that the government had no records from another four emergency committees.
"Needless to say, keeping records at these meetings is extremely important," MR Okada is quoted as saying by the AP news agency. "Each minister should keep that in mind."
Japan has said that it could take up to 40 years to clear up the aftermath of the disaster.