Karachi shooting: Gunmen kill three Shia lawyers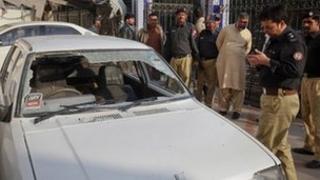 Gunmen on motorcycles have shot dead three lawyers and wounded another in Pakistan's biggest city, Karachi.
Reports say the lawyers, who belonged to the minority Shia community, were on their way home from the city's courts when they came under attack.
Police suspect the shooting could be in retaliation for the killing on Tuesday of a legal adviser linked to an anti-Shia extremist group.
The Karachi Bar Association head said the men were all from the same family.
"They were on their way home and the car was fired at. Certainly this killing is the result of a target killing," Mahmoud ul-Hasan said.
Eyewitnesses say four men on motorcycles blocked the men's way. Two dismounted and opened fire.
Lawyers in Pakistan are to boycott courts across the country on Thursday in protest at the killings.