Pakistan heart drugs: 'Faulty batch kills 70' in Lahore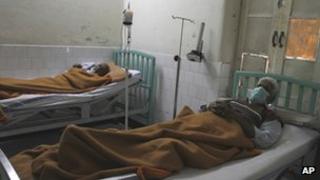 At least 70 people are believed to have died in the Pakistani city of Lahore over the past three weeks because of faulty heart drugs, officials say.
They said that at least 400 others are being treated for similar symptoms.
The number of dead has soared since Tuesday, when officials said about 36 people with cardiovascular problems had died since the start of the month.
The owners of three local drugs companies alleged to have supplied the contaminated drugs have been arrested.
The deaths have caused panic in the city less than three months after a dengue fever epidemic.
Officials have warned that the batch of contaminated drugs might have been distributed to nearly 40,000 people since 15 December. They say that patients affected by the sub-standard drugs suffer a rapid depletion of white cells and blood platelets.
The symptoms - first noticed in late December - created an impression that patients were suffering a form of dengue fever, a mosquito-borne disease common in Pakistan during the monsoon season, officials say.
But patient data soon revealed that all of those affected were heart patients who had been using free cardiovascular drugs from the government-run Punjab Institute of Cardiology.
Publicity campaign
Officials told the BBC that the deaths appear to have been caused by a batch of drugs issued on 15 December.
They say one or more of at least six drugs - all manufactured by little-known local firms and purchased by the Institute of Cardiology for heart patients - may be responsible.
The parliamentary health secretary for Punjab, Saeed Illahi, told the BBC that about 400 heart patients were ill from taking the drugs. About 100 had been admitted to hospital, with many of them still in a critical condition.
Drug samples have been sent to London and Paris for further investigation, he said.
Officials of the Federal Investigation Agency (FIA) told a court in Lahore on Wednesday that the drugs did not carry dates of manufacture and expiry.
The court has remanded in custody three people who own pharmaceutical firms which supplied the drugs to the Institute of Cardiology. The owners of two other companies are being sought, Mr Illahi said.
None of the firms has commented on the allegations.
The institute provides free heart drugs to about 600,000 heart patients annually.
Hospital sources have told the BBC that if they do not buy medicines from the cheapest supplier they can be taken to court by drug companies.
The government has now launched a publicity campaign warning people not to use the faulty batch of drugs.
The BBC's M Ilyas Khan in Islamabad says the Pakistani pharmaceuticals market is intensely competitive, with local companies competing with multinationals for hospital contracts.
This is thought to be the first time that drugs provided by Pakistani companies are alleged to have been below standard, our correspondent adds.