Pakistan clashes: Many dead in Kurram fighting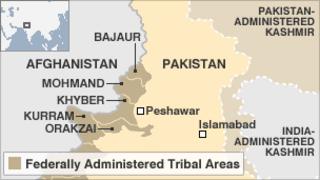 At least 23 people have been killed in clashes between soldiers and militants in Pakistan's tribal region of Kurram near the Afghan border, officials say.
Security officials said six of the dead were soldiers, while the rest were described as Taliban militants.
Kurram is one of Pakistan's seven tribal regions, where troops have for several years been fighting groups linked to the Taliban or al-Qaeda.
A ban on journalists make independent confirmation of casualties impossible.
A senior official of the paramilitary Frontier Corps told the AFP news agency that troops had now taken control of the area.
Pakistan launched an offensive in Kurram in July against the militants. Troops say they are still carrying out a search operation after clearing most of the area.
Correspondents say that while the army has fought Pakistani Taliban militants across many of the tribal regions, it has so far not bowed to intense American pressure to take action against the al-Qaeda-linked Haqqani network in its stronghold of North Waziristan.