Megaupload founder denied bail by New Zealand court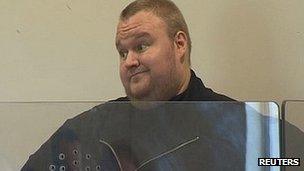 The founder of file-sharing website Megaupload has been denied bail by a New Zealand court.
German national Kim Dotcom - also known as Kim Schmitz - was arrested with three others in Auckland on 20 January in a raid requested by the US Federal Bureau of Investigation.
He has been accused of internet piracy and money laundering.
Meanwhile, US officials said Dutch police had arrested a fifth suspect - Andrus Nomm, 32.
A US indictment identifies Mr Nomm as a citizen of Estonia and head of Megaupload's Development Software Division.
Mr Dotcom's lawyers have said his company simply offered online storage, and that their client is innocent.
Judge David McNaughton said that Mr Dotcom posed a flight risk and remanded him in custody until 22 February, when US authorities' application for Mr Dotcom's extradition will be heard.
Prosecutor Anne Toohey had previously argued that there was a danger Mr Dotcom would try to flee the country, citing his multiple passports, financial resources and previous criminal convictions for hacking and insider trading.
Judge McNaughton also pointed to the discovery of a gun in the raid in which Mr Dotcom was arrested as a factor in denying bail.
"The applicant's unlawful possession of the firearm is another factor which weighs in the balance," he said, according to Fairfax News.
"It suggests a level of criminality which to my mind could easily extend to exploiting criminal connections to obtain false travel documents and leave the country undetected," he added.
Mr Dotcom holds German and Finnish passports, and is a resident of Hong Kong and New Zealand.
US federal prosecutors have accused Megaupload - one of the internet's largest file-sharing sites before it was shut down last week - of costing copyright holders more than $500m (£320m) in lost revenue.
Megaupload, on the other hand, said it was diligent in responding to complaints about pirated material.