Gunmen in southern Philippines kill 15 fishermen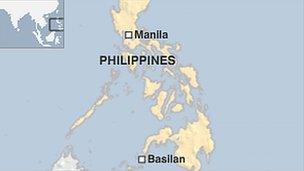 At least 15 men were killed in the southern Philippines when gunmen opened fire on three boats, in what military officials say was fishing turf rivalry.
The incident happened on Monday off Basilan province, a stronghold of Muslim rebels.
Three other men were wounded in the incident.
Police have identified several suspects involved but no-one has been arrested yet.
"They (the victims) were fishing on another group's turf," regional military spokesman Lt Col Randolph Cabangbang told the Agence France Presse news agency.
He added that the possibility of Islamist militants being involved in the incident had so far been ruled out.
Police say that about 10 attackers are suspected of involvement in the incident.
The fishermen were aboard three wooden vessels off Sibago island in Basilan when gunmen in speedboats opened fire.
The shooting was discovered by other fishermen in the area. The victims were residents of Pagadian city, 160km (100 miles) north-east of Basilan.
A survivor reportedly told police that they had been warned to stay away from the area where the attack took place.
According to the BBC's Kate McGeown, there are more than a million unlicensed firearms in the Philippines - one for every 40 civilians - and the tally is likely to be much higher in a place like Basilan.
The Basilan region is used as a base by Islamist militants and rebel groups in the predominantly Christian nation.
It is also a hotspot for kidnap-for-ransom groups, with foreigners often the target.