EU suspends visa bans on leading Burmese politicians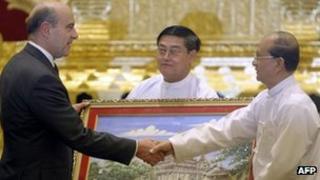 European foreign ministers have agreed to suspend visa bans on leading politicians in Burma, including the president and cabinet members.
EU ministers meeting in Brussels said the move followed Burma's "remarkable programme of political reform".
A statement said further reforms would lead to a further easing of sanctions.
Burma is due to hold by-elections in April which will be contested for the first time by the opposition party led by Aung San Suu Kyi.
Reforms in Burma have been gathering pace in recent months. In mid-January, the government released a series of high-profile political dissidents from prison in an amnesty.
Those freed include veterans of the 1988 student protest movement, monks involved in the 2007 demonstrations and ethnic-minority activists.
The military-backed civilian government came to power in November 2010, after the country's first elections in 20 years. Before that Burma was governed by a military junta.
The new government freed Ms Suu Kyi and began dialogue with her and her National League for Democracy (NLD) party.
'Improved relations'
The EU statement said visa bans would be suspended for Burma's President Thein Sein, vice-presidents, cabinet members and parliamentary speakers.
"The Council welcomes the remarkable programme of political reform undertaken by the government and parliament," a statement said.
It added that the reform process had already led to improved relations with the EU and if such reforms continued, then restrictions could further be eased by the end of April.
"These changes are opening up important new prospects for developing the relationship between the European Union and Burma/Myanmar," the statement said.
The US has also begun the process of thawing diplomatic relations saying that it will start the process of exchanging ambassadors with Burma.
Although Western nations have welcomed the reform process, they have also called on the government to release all political prisoners and resolve ethnic conflicts in border regions.
And Burmese exiles and campaign groups say the real test will be how much freedom released prisoners will have to continue their activities.
Burma remains the subject of economic sanctions from the European Union, the United States and Canada, among others. Of the major economies, only China, India and South Korea have invested in the country.
But Western leaders have said they will match progress towards democracy in Burma with concessions and political incentives.