Maldives appeals to UN in row over judge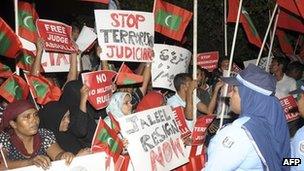 The Maldives has asked the UN to help resolve what it calls a "judicial crisis", one week after the detention of a senior criminal court judge.
Last week the army arrested Judge Abdulla Mohamed for alleged corruption and political bias, a move which prompted street protests.
The government says Judge Mohamed's judicial decisions were dictated by his political and personal affiliations.
Opposition activists say the government is undermining democracy.
The spokesman for ex-President Maumoon Abdul Gayoom, who was voted out of office in 2008 after a 30-year tenure, accused it of "terrorising" the judiciary.
Judge Mohamed appears to have made no public comment so far.
The BBC's correspondent in the region, Charles Haviland, says that since the 2008 elections brought former human rights campaigner Mohammed Nasheed to the presidency, the Maldives has been gripped by constitutional gridlock - especially because parties opposed to Mr Nasheed now dominate parliament.
The political crisis has seen bitter rhetoric and street protests, or correspondent says.
The government has confirmed it has asked the UN to send a team of senior foreign jurists to come and help resolve what it called a "systemic failure" in the Maldives judicial system.
The government says the judicial system in the Maldives is in crisis because it is unable to regulate itself.
It argues that a judicial commission, mandated by the constitution to investigate complaints and take disciplinary action against judges, has failed to probe complaints against Judge Mohamed.
As a result, the government says, it was compelled to act and detained the judge last week.
It says the dispute with the judge is not an isolated incident but indicative of a more deep-rooted problem with the Maldives judicial system and the checks and balances it has to ensure it stays independent.
Correspondents say it is unclear exactly how the UN could help in this situation. The UN has yet to make a comment.
The supreme court and the prosecutor general's office have demanded the judge's release, calling his arrest illegal.