US drone strike in Pakistan 'kills five militants'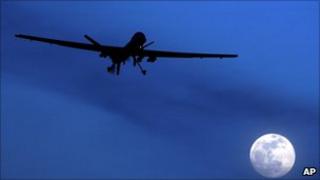 A drone attack in a volatile tribal region of north-west Pakistan has killed at least five suspected militants, officials say.
The attack took place at Degan village in the North Waziristan tribal area, close to the Afghan border.
Analysts say that the US briefly halted drone strikes in the region in November after a Nato attack accidentally killed 24 Pakistani soldiers.
Attacks by the unmanned aircraft appear to have resumed in early January.
The militants, who are believed to be from Turkmenistan, were killed when missiles hit their vehicle, local administration officials told the BBC.
Witnesses say the vehicle was going from Degan to Datta Khel in North Waziristan and said that it was engulfed by fire after the missile strike. A nearby house was also damaged.
Drone attacks have focused on North and South Waziristan, where US officials believe many al-Qaeda and Taliban fighters find shelter.
The US says the region is home to several militant groups involved in attacks on Nato forces in Afghanistan.
Drone attacks frequently target Pakistan's restive tribal areas, where many insurgents have taken refuge.
The frequency of the attacks has increased since President Barack Obama took office in 2008. More than 100 raids were reported in the area in 2010, and more than 60 took place last year.
The US does not routinely confirm drone operations, but analysts say only American forces have the capacity to deploy such aircraft in the region.