Megaupload founder seeks bail in New Zealand court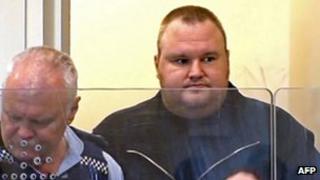 The founder of file-sharing website Megaupload has appeared in a New Zealand court seeking bail.
German national Kim Dotcom - also known as Kim Schmitz - was arrested with three others in Auckland on Friday in a raid requested by the US Federal Bureau of Investigation.
He has been accused of internet piracy and money laundering.
Prosecutors say he is a flight risk. The court later delayed a decision on bail.
"Given the breadth of issues covered in this bail application and the seriousness of the issues, I am going to reserve my decision," said Judge David McNaughton.
US authorities want to extradite Mr Dotcom. Federal prosecutors have accused Megaupload - one of the internet's largest file-sharing sites - of costing copyright holders more than $500m (£320m) in lost revenue.
Megaupload, on the other hand, said it was diligent in responding to complaints about pirated material.
Mr Dotcom holds German and Finnish passports, and is a resident of Hong Kong and New Zealand.
"Mr Dotcom emphatically denies any criminal misconduct or wrongdoing," Mr Dotcom's lawyer, Paul Davison, said.
Prosecutor Anne Toohey, however, said that Mr Dotcom was a significant flight risk, citing his multiple passports, financial resources and previous criminal convictions for hacking and insider trading.