Mansoor Ijaz: Fixer in Pakistan's 'memogate' row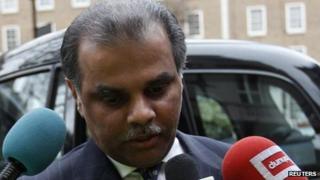 Mansoor Ijaz is a charismatic businessman who has been at the heart of Pakistan's "memogate" scandal, which has threatened to derail the civilian government.
An American of Pakistani origin, he made his millions as an investment banker in the 1990s. He's also seen as an international wheeler-dealer, as well as a media commentator and fixer with an extensive list of contacts.
Born in Tallahassee, Florida in 1961, Mansoor Ijaz grew up on an isolated farm in rural Virginia.
Following in his father's footsteps - he was a theoretical physicist - Mr Ijaz receiving his bachelor's degree in nuclear physics from the University of Virginia in 1983 and master's degree in mechanical engineering from the Massachusetts Institute of Technology in 1985. He has also trained as a neural sciences engineer.
But his gregarious and colourful nature, eye for business, media friendliness and knowledge of international affairs post-9/11 meant that he was never destined for a life in academia.
Soon after the "memogate" row erupted eyebrows were raised when video emerged of him commentating for a mostly near-naked female wrestling bout in the US in 2004.
Neo-con views
After starting out as a scientist, Mansoor Ijaz switched his career to become an investment banker. He developed a currency, interest rate and equity risk management system, starting his own investment firm in 1990.
The combination of his increasing wealth, natural charm and ability to talk authoritatively on international affairs soon brought him to the attention of the US media and the government.
A larger than life character, he has appeared regularly on a wide variety of US-based and foreign financial and political news programmes including CNN, Fox News, ABC and the BBC.
He has also contributed to the editorial pages of London's Financial Times, The Wall Street Journal, The New York Times, Los Angeles Times, The Washington Post, The International Herald Tribune, Newsweek International and many other newspapers and magazines.
Many of his opinion pieces express neo-conservative views, often advocating a more hawkish American foreign policy.
His rising profile from the mid-1990s meant that he had the ear of US government and military officials on various issues, including the presence of WMDs in Iraq and Iran's nuclear capabilities.
Mr Ijaz claimed in the 1990s that he played a pivotal role in unofficial negotiations between the US and Sudanese governments over the possible extradition of Osama Bin Laden.
He reportedly argued that Washington should adopt a policy of "constructive engagement" with Sudan, in return for deporting Bin Laden.
When the al-Qaeda leader instead made his way to Afghanistan, Mr Ijaz complained that America had missed a huge opportunity to capture him.
However this claim has been disputed by American officials who said was no reliable evidence to support his allegations. None of this, however, detracted from Mr Ijaz's growing media and public profile, or from his increasingly close friendships with the US security establishment.
'Bootygate'
In October 2011 Mr Ijaz became centrally embroiled in what has become known as the "memogate" scandal, which revolved around a memorandum made public by him in a Financial Times article.
He claimed that Pakistan's ambassador to the US at the time, Husain Haqqani, sought US help in averting a possible military coup in Pakistan following the killing by US forces of Bin Laden in May.
Mr Haqqani was alleged by Mr Ijaz to have drafted it at the behest of President Asif Ali Zardari, who allegedly offered to replace his country's military leadership and sever all ties with militant groups in exchange for US help against the army.
The American military confirms receiving the memo but insist it was not acted upon and have questioned its credibility. Mr Zardari and Mr Haqqani, who resigned over the affair, deny the allegations. The president could be forced to quit in the somewhat unlikely event of the trail being found to lead to his door.
Mr Ijaz is reported to have met Lt Gen Ahmed Shuja Pasha, the head of Pakistan's ISI spy agency, in London to discuss the memo. In fact, Lt Gen Pasha's testimony in the Supreme Court case is based exclusively on Mr Ijaz's information. After examining Mr Ijaz's Blackberry phone records, the ISI chief said he was satisfied that there was sufficient evidence to warrant an inquiry.
Mr Ijaz initially promised to return to Pakistan to testify, then refused to do so because he said his safety could not be guaranteed.
But it could be that his credibility has already been seriously undermined by the "bootygate" tape.
Mr Ijaz has told the Associated Press the wrestling video was not a hoax, but he was convinced its sudden emergence was part of an effort to discredit him.
According to Mr Ijaz, he was unaware he would feature in a version of the video that contained full nudity, and he only agreed to appear on it "as a favour for my wife's best friend" when the scheduled actor did not show up.
Both the "memogate" and bootygate" scandals reinforce the point, however, that Mansoor Ijaz's is name is seldom far from controversy.