Pakistan kidnap: Two foreigners seized in Multan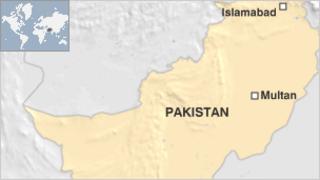 Two foreigners have been kidnapped from the city of Multan in Pakistan's Punjab province, local police say.
The Italian foreign ministry said that one of the two is Italian and that it is in contact with the victim's family. The other is thought to be German.
The two are believed to be foreign aid workers who were working for a development agency helping victims of the 2010 floods.
It is not clear if they were kidnapped for ransom or by a militant group.
"Three armed men entered the house and kidnapped two foreign nationals. One of them is an Italian national and the other we believe to be German," local police spokesman Amir Zulfiqar told Reuters.
"So far we have not established a motive but it is too early to say. We are continuing investigations," he added.
No group has said it carried out the kidnappings.
Earlier this month, gunmen kidnapped a British man working for an aid organisation in the city of Quetta, the capital of volatile Balochistan province.
Last December al-Qaeda said it was holding 70-year-old US aid expert Warren Weinstein, who was seized by armed men in Lahore in August.