Pakistan PM Gilani in court as drama grips nation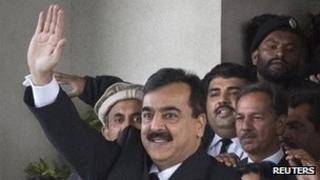 That Pakistani Prime Minister Yousuf Raza Gilani would walk out of the country's increasingly aggressive Supreme Court without wearing handcuffs had been predicted by all seasoned observers.
But emotions in Pakistan run on a short leash, and doomsday scenarios sell like hot cakes.
So when the prime minister arrived for an unusual hearing at the court where he was accused of contempt, people across the country glued themselves to their TV sets, waiting restlessly for high drama to unfold.
Pakistan's ubiquitous television news channels had put their best anchors on air with live video links to experts and their crews at the Supreme Court premises to provide analyses and blow-by-blow account of the proceedings.
Hundreds of camera crews and security detachments braved the chilly, drizzly winter morning around the sprawling building, covering all the vantage positions so as not to miss any single movement of interest.
Standing room only
Inside the courtroom, an impressive line of important cabinet ministers and political allies of the prime minister was arrayed opposite a stage on which seven judges sat behind a semi-circular table.
In the press gallery, overlooking the court, it was standing room only.
For an unfamiliar eye, the scene was decked with all the trappings of a fight to the bitter end.
But the prime minister ended up making a dignified deposition before the court, denying any wilful contempt. The judges heard him out with solemn respect in recognition of his official status.
The anti-climax came when the prime minister's lawyer, Aitezaz Ahsan, was able persuade the judges to give him nearly two weeks to prepare his defence which many say would raise more legal questions, and more time needed to answer them.
Survival
For now, there are signs that at the very least, Mr Gilani will see the government through to 2 March, when senate elections are due.
His Pakistan People's Party (PPP) party is poised to win an absolute majority in the senate. This will extend the party's influence over legislation for at least six years even if it loses in general elections, likely to be held later in the year.
It is generally believed that once senate elections are over, the need for some political factions and state institutions to destabilise the government would end.
But that does not mean that Pakistanis' appetite for political drama will end too.
It is very closely linked to the country's 65-year long history.
During these years, the Pakistani public and Pakistan watchers abroad have seen long spells of military regimes, punctuated by short-lived democratic governments that have been booted out and humiliated without exception.
Mr Gilani's government has defied predictions of a collapse so far, and has become the longest surviving elected government in the country's history.
If it survives until next elections, and a successful transition to the next government takes place, maybe then Pakistanis will start getting used to the new rules of the game that seem to be in the works.