Burma government in Kachin ceasefire negotiations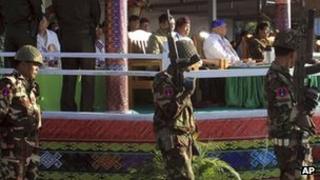 Burma's government has held ceasefire talks with ethnic Kachin rebels to end skirmishes near the northern border with China, officials say.
But officials say the preliminary meeting did not yield any major breakthroughs.
The Kachin Independence Army (KIA) is one of the country's most powerful and well-armed rebel groups .
Earlier this month the government signed a ceasefire with Karen rebels in the east of the country.
It has also held talks within the last two months with the Shan State Army.
Officials told the AP news agency that the latest round of talks with Kachin rebels took place over two days and involved a high-level government team.
Correspondents say that while no substantive deal was negotiated, both sides agreed to continue talks later and inform each other before deploying troops.
The talks are part of an effort by Burma's new and and nominally civilian government to end long-running ethnic conflicts which have blighted the country for decades.
A ceasefire with the KIA would assist Burma's efforts to lift sanctions imposed on the country by the European Union (EU) and the United States, both of which have insisted that peace deals with ethnic militias are an essential pre-requisite if this is to happen.