Arfa Randhawa death: Pakistan mourns IT girl genius
By Nosheen Abbas
BBC News, Islamabad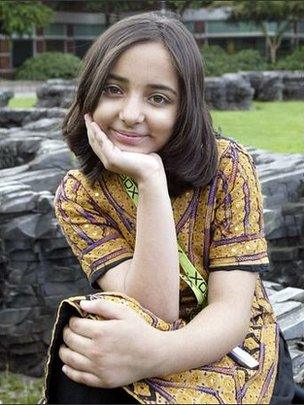 The tragic death of a 16-year-old Pakistani girl who was also a computer genius has cast a spotlight on an industry with huge potential for the country's youth.
Arfa Karim Randhawa, who became the world's youngest Microsoft Certified Professional at the age of nine, died at the weekend after a heart attack following an epileptic fit.
After Arfa passed the Microsoft exam in 2004, Bill Gates was so impressed by her that he invited her to the company's US headquarters.
When he found out she was ill, he also offered medical help and was in touch with her family.
Pakistan has been in the throes of a political crisis but the press and the nation appeared to take a breath and paused for a moment to mourn a young life which gave the country a name in an industry dominated by Silicon Valley and Indian innovation.
Arfa's short life mirrors Pakistan's burgeoning engagement with information technology, an industry which holds out hope for youth embittered by unemployment and a lack of opportunities.
Her father, Col Amjad Karim, says she was particularly concerned to use her skills to help the young, those under-served by IT and those from villages.
"It is generally understood that computers are for very hi-fi people or rich schools but nowadays one can be purchased for a few thousand rupees by the poorest of poorest," he told the BBC.
"Arfa's centre of gravity was wanting to improve human resource development by focusing on education."
Col Karim retired from the army to be his daughter's manager. He says her mother and two younger brothers are in shock after her death.
Arfa had been in intensive care in a Lahore hospital since late December.
Senior politicians joined relatives at her funeral in the city on Sunday - she has already had a technology park named after her in Lahore.
Her loss is also being felt by Pakistan's IT world.
Shoaib Malik, country manager for games company Mindstorm, said: "It's really sad. What was amazing about her was that she had a clear vision, she literally wanted to set up the industry.
"One thinks only kids who have studied from abroad would have a vision but it was remarkable. I think whatever God does, does for the better but had she been alive she could have played an important role in the IT industry."
Mindstorm is one of a number of small Pakistani start-ups tapping into the global IT boom - a side to the country often overlooked amid bombings, natural disasters and never-ending political crisis.
The company, set up by self-taught techies, developed a game which ended being selected as the ICC World Cup 2011 official game, Cricket Power.
According to Pakistan Software Houses Association president Jehan Ara, Arfa was "intelligent beyond her years".
"In addition to achieving a professional certification at the tender age of nine, it is also notable that she set up and ran a computer training institute for a poor community.
"Her passion for technology, coupled with her vision to use her talent to do something significant for Pakistan and its people, was truly amazing for someone so young."
Ms Ara feels the IT industry offers a way out of unemployment for young Pakistanis, many of whom she says are starting their own companies. One Karachi firm is even developing software for the stock exchange in the UK.
But compared to India, Ms Ara thinks firms in Pakistan which she says has an "image problem" may have missed the bus.
Around 1996 - the year when Arfa was born - the IT industry really took off in Pakistan, according to Shakir Hussain, CEO of software company Creative Chaos.
As the millennium approached, the fear of a mass technical apocalypse also motivated people to pay more attention to IT ventures.
"Suddenly there were hiring and migration opportunities for software engineers," he recalls.
But techies in Pakistan had been putting their creative minds to work even earlier than that, with far-reaching and destructive results.
In 1986, two brothers from Lahore created the world's first computer virus, "Brain".
They insist the virus was friendly and not intended to damage information, but it still ricocheted through the tech world and was developed by others, spawning viruses used to exploit operating systems.
That, however, is not what Pakistan's IT industry wants to be known for.
Shakir Hussain thinks it offers bright young people a good chance to earn a few thousand dollars working from home through various websites.
"The internet has been a great leveller," he says.
Arfa's father also champions the potential of IT to improve things for young Pakistanis, but says his daughter's influence went further than that.
"Arfa used to say, 'Don't take our generation lightly'," Col Karim says.
She was role model to "so many other young people - young girls", he says, who referred to her as "Arfa aapi (sister)".
Malalai Yusufzai, a student who spoke out in Swat while it was under Taliban rule, was one of those girls.
"We really have lost a diamond," Ms Yusufzai told the BBC. "When I heard about her, I was really moved. I was amazed that we had someone like her in Pakistan - a genius! I was proud of her and that she's a Pakistani."
Arfa's list of achievements shames people several times her age. As well as learning to fly when she was just 10, Arfa had been working with Nasa after winning a competition last year.
"She was good at singing, poetry, so many things," her father says.
As I leave, I ask for his email address and it dawns on him that he doesn't have it.
"Actually, Arfa used to handle my emails and her own... so I don't have my password."
Arfa is really going to be missed.