Two more Kazakh parties wins parliamentary seats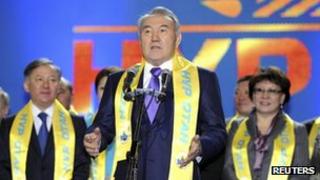 Preliminary results from the election in Kazakhstan show that two new parties are to win seats in parliament for the first time.
The ruling Nur Otan party - which won all the seats in the last poll - maintained a big majority.
But the Communist and pro-business Ak Zhol parties passed the 7% threshold required to gain parliamentary seats.
The authorities say the polls were fair but opposition monitors say there were widespread irregularities.
International observers are to give their assessment of the election later in the day.
In the last election in 2007, Nur Otan - headed by President Nursultan Nazarbayev - won nearly 90% of the vote and took all the seats in the 107-member lower house.
But early results on Monday suggested that this time the party secured just over 80% of the votes cast.
The crashing victory for the Nur Otan party comes as no surprise, says the BBC's Central Asia Correspondent Rayhan Demytrie.
Four other parties that contested the polls failed to pass the 7% threshold and gain any seats. The two new parties that will enter parliament largely back the government.
The poll comes less than a month after riots in which at least 16 people died.
The violence was between striking oil workers and security forces in the western town of Zhanaozen - in what has so far been the biggest challenge to Mr Nazarbayev during his two-decade rule of the Central Asian nation.
Kazakhstan has huge energy reserves that are attractive to its energy-hungry neighbour China as well as to the West, which is keen to reduce Europe's dependence on Russia's hydrocarbons.