Impeachment trial for top Philippine judge begins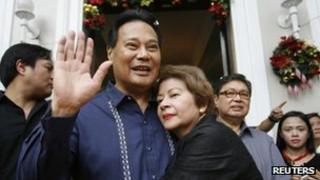 The Philippines has begun its first-ever impeachment trial of the chief judge of the Supreme Court.
The 23-member Senate will decide whether Chief Justice Renato Corona should be unseated for breach of public trust and violation of the constitution.
Congress impeached Mr Corona in December, accusing him of showing bias towards former President Gloria Arroyo.
Mr Corona has denied the allegations.
He told local TV station ABS CBN that "only death" could remove him from office. "If they want to remove me from my post, they should kill me," he said.
The trial could take several months.
"We are going through a process to stop a rogue magistrate from completely crushing the sacred institution of the Supreme Court," said President Benigno Aquino, as quoted by news agency AFP before the trial.
Arroyo tussle
Mr Aquino was said to have marshalled allies in Congress to impeach Mr Corona largely because he was seen as protecting Mrs Arroyo from prosecution.
In the impeachment vote, 188 of the 284 members of the House of Representatives backed the resolution to put Mr Corona on trial in the Senate.
He was impeached on a total of eight counts, which also included failure to disclose assets and corruption.
Mrs Arroyo appointed Mr Corona - who was her former chief of staff - shortly before she finished her term in office.
The appointment was questioned by Mr Aquino, who has since accused Mr Corona of trying to block efforts to investigate corruption allegations against Mrs Arroyo.
In November the Supreme Court under Mr Corona lifted a travel ban on Mrs Arroyo, after which she tried to leave the country, saying she needed medical treatment.
Mr Arroyo was arrested shortly after that on charges of rigging Senate elections in 2007, a claim she strongly denies.
Local media reports citing opinion polls say there is strong public support for Mr Aquino's anti-corruption drive.
But critics say Mr Corona's trial is a result of Mr Aquino overstepping constitutional boundaries.
Meanwhile, the employees of the Supreme Court have expressed their support for the chief judge, according to local media reports.