Kazakhstan holds elections marred by deadly riots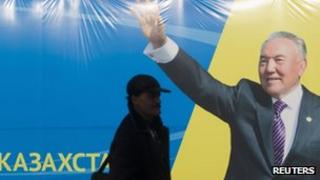 People in Kazakhstan have voted in parliamentary elections, with the pro-government party widely expected to win by a landslide.
The Nur Otan party, headed by President Nursultan Nazarbayev, won all the seats in the 107-member lower house in 2007.
One early exit poll gave the Nur Otan party 81% of the vote.
So far it has been the only party represented in parliament. But for first time the second-place party is now guaranteed seats in the chamber.
International observers have never deemed any election in Kazakhstan as free and fair.
The poll comes less than a month after riots in which at least 16 people died.
The violence was between striking oil workers and security forces in the western town of Zhanaozen - in what has so far been the biggest challenge to Mr Nazarbayev during his two-decade rule of the Central Asian nation.
Tame opposition
Two hours before polls closed, data from the Central Election Commission data showed that 70% of eligible voters had cast their ballots, the Associated Press news agency reports.
According to an exit poll by the Institute of Democracy, Mr Nazarbayev will win a crushing victory, with 81% of the vote.
It suggested the pro-business Ak-Zhol (Bright Path) Party and the Communist Party would both scrape into parliament by scoring above a 7% threshold for representation.
But the BBC's Rayhan Demytrie in Almaty says none of six other opposition parties that are standing poses a serious challenge to Nur Otan.
The elections were originally planned for August 2012, but Mr Nazarbayev brought them forward by dissolving parliament in November and setting a new date.
The 71-year-old president has led Kazakhstan since the Soviet era, achieving stability and strong economic growth, but tightly suppressing opposition to his rule.
Officially titled the Leader of the Nation, Mr Nazarbayev won a presidential election in April last year with 95.5% of the vote.
Kazakhstan has huge energy reserves that are attractive to its energy-hungry neighbour China as well as to the West, which is keen to reduce Europe's dependence on Russia's hydrocarbons.