Burma joy as freed prisoners head home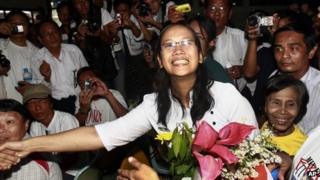 When Ko Ko Gyi arrived at Rangoon airport the crowd had been waiting several hours and rushed to greet him.
People almost jumped on him, shouting, cheering, thronging him, calling out his name.
Ko Ko Gyi is one of the best known of the 88 generation of student leaders, along with Min Ko Naing, the most famous.
Relatives, ordinary people, political activists, members of Aung San Suu Kyi's NLD party had all gathered at Rangoon airport to wait for the freed prisoners.
The more prominent a student leader in Burma, the further away he or she is sent to prison.
I saw one woman student leader, Nilar Thein, who had been released from a district prison. She had been separated from her young daughter for more than four years. The reunion at the airport was tearful. Many people were choking with emotion.
This latest prisoner release is much more significant than previous ones.
Under the current government, this is the fourth time prisoners have been freed - but people did not think the most prominent leaders would get out of jail for some time.
The announcement of the amnesty came as a surprise - and some people had suspicions.
This is a government that does not recognise the existence of political prisoners - only people jailed for crimes it says they committed.
Some people told me they would believe it only when they actually saw dissidents touch down at the airport and come out of the gates.
That is exactly what has now happened.
Almost every one of those main political activists and prominent leaders has been freed.
'Festive atmosphere'
Earlier the atmosphere was really buzzing outside Rangoon's main Insein prison. Hundreds of people had gathered outside the gates.
They waited for two hours, occasionally chanting "welcome, welcome political prisoners".
Some brought white jasmine garlands to place around the necks of freed prisoners. It wasn't just families of political prisoners - hundreds of others were cheering.
It was a festive atmosphere.
Among those freed were monks who participated in the 2007-2008 "saffron revolution". They had been disrobed and made to wear layman's clothes. There were student activists and NLD members.
Altogether, 82 prisoners were released from Insein.
Prisoner releases had been expected, but the inclusion of such prominent figures meant this was still a surprise.
There are many reasons for the government move, the main one being to secure the lifting of sanctions on the country.
World leaders have insisted that if Burma wants to come back to the international fold then it must do certain things - releasing political prisoners was top of the list.