Pakistan PM Gilani seeks parliament's support in crisis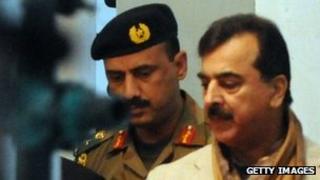 Pakistan's PM Yousuf Raza Gilani has said parliament must choose between "democracy and dictatorship", in a critical vote of confidence.
Parliament is to vote on a resolution of confidence in its political leadership and democracy on Monday.
The vote comes amid a deepening crisis between the government, the military and the judiciary.
It will be held as a Supreme Court deadline expires for the government to reopen political corruption cases.
The deadline was set after the court quashed a government amnesty for politicians, including Pakistan's President Asif Ali Zardari, and is seen as a direct challenge to the government.
The announcement of the confidence vote comes after several public disputes have brought relations between the government and the military to an all-time low, correspondents say.
Fears for stability
In a defiant speech, Mr Gilani urged MPs to protect the country's democracy and said he "will not beg support from anyone".
He said that anyone who had a hand in removing his government would be setting back democracy in Pakistan.
"Now we have to decide whether we should have democracy or dictatorship in this country. If we have committed any mistakes, it does not mean that democracy or parliament should be punished," the prime minister told parliamentarians.
The BBC's Aleem Maqbool in Islamabad says some will see this as a clever move by Mr Gilani; others will read it as a sign of desperation.
His calculation is that he can save himself by portraying anyone who tries to bring his government down as the enemy of democracy, our correspondent says.
Analysts believe Mr Gilani is likely to win the vote of confidence, and that parliament's seal of approval is likely to strengthen his hand.
Meanwhile Pakistan's President Asif Ali Zardari has returned to Pakistan after a brief visit to Dubai.
His departure on Thursday fuelled rumours of an impending coup, in a country which has a history of army takeovers.
But officials said he was there to attend a wedding. Mr Zardari had heart treatment in Dubai last month.
Anonymous memo
The government's stand-off with the military escalated earlier this week when the military publicly rebuked Mr Gilani on Wednesday, warning of "potentially grievous consequences" after he criticised military leaders in a media interview.
Mr Gilani also sacked his defence secretary.
But in a move seen by analysts as an attempt to ease tensions, Mr Gilani called a meeting of the cabinet's defence committee for Saturday.
This will be the first time civilian and military officials meet face-to-face since the latest crisis erupted. They are likely to discuss last year's Nato attack on a Pakistani border post.
Last month Mr Gilani said conspirators were plotting to bring down his government, without specifically blaming the military. That prompted army chief Gen Ashfaq Kayani to dismiss coup rumours.
At the heart of the rift is an anonymous memo which sought US help to avert a possible military coup in Pakistan following the killing by US forces of al-Qaeda leader Osama Bin Laden last May.
It is not clear who wrote the memo or conveyed it to the Americans. They say they received it but took no action.
Pakistan's Supreme Court has launched its own inquiry into the memo affair.
Pakistan's military - humiliated by the discovery of Bin Laden on Pakistani soil and the secret US operation to kill him - has been incensed by what has become known as "memogate".
The scandal has already cost Pakistan's former ambassador to Washington, Husain Haqqani, his job. He denies any role in the memo, as does President Zardari.