India on course to be declared polio free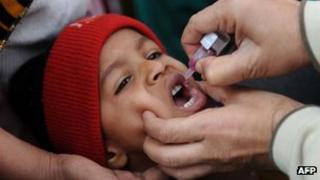 India has been free of new cases of polio for a year, putting it on track to end its status as a country where the virus is endemic, officials say.
In a few weeks, if pending samples test negative for the virus, India will be officially regarded as free from polio for the first time in its history.
The World Health Organisation described this as a critical milestone.
India was once seen as a polio epicentre, the country where the virus was most difficult to tackle.
India has battled hard for this moment and if the outstanding tests prove negative as expected, the World Health Organisation will officially declare that India has stopped indigenous transmission.
That will mean only three polio-endemic countries are left: Pakistan, Afghanistan and Nigeria.
Sona Bari, a spokeswoman for the polio eradication programme at the World Health Organisation, said this was very significant, not just for India but the global campaign as a whole.
"India's success is proof," she told the BBC, "that it's biologically and technically feasible to eradicate polio."
India's final reservoirs for the virus were in two of its poorest and most populous states: Uttar Pradesh and Bihar. Both also have large migrant populations and weak health infrastructures. All this made the process of comprehensive vaccination more challenging.
India's apparent success is being put down to a series of factors, including strong political will at national and state level and some very determined outreach programmes.
"Vaccination teams visited every brick factory in rural Bihar to reach children living there," said Ms Bari. "Some went in boats to small islands in the floodplains where temporary populations go to farm."
There has also been concerted financial commitment. According to the World Health Organisation, by next year India will have spent US $2 billion. That makes it one of the biggest donors to global eradication.
It is good news although everyone is warning against complacency. Just two years ago, India suffered an apparent set-back with more than 700 cases.
But if India can manage to go for three years without seeing a new case, the whole south-east Asian region, which excludes Pakistan and Afghanistan, would be declared polio-free for the first time.
That is an important step along the long road to global eradication.