Four killed in Pakistan by 'US drone attack'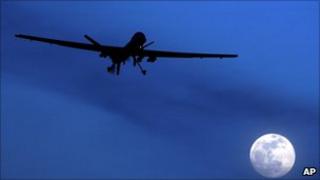 A US drone attack in Pakistan's tribal region of North Waziristan has killed at least four people, officials say.
It is the second strike by an unmanned US aircraft in the area bordering Afghanistan in the past two days.
On Tuesday, the US relaunched drone attacks in the region after a pause of almost two months.
Analysts say the US halted drone strikes in the region in November after a Nato attack accidentally killed 24 Pakistani soldiers.
Pakistan also closed its border with Afghanistan after the strikes, cutting off vital Nato supply lines.
Officials say that the most recent attack took place 30km (18 miles) west of Miranshah, the main town of the North Waziristan tribal region.
The region served as the main supply route for Nato forces operating in Afghanistan before the suspension triggered by the November incident.
"US drones fired four missiles targeting a rebels' vehicle," a local security official told the AFP news agency.
However another official said that the identities of those killed were not immediately known.
A US military report later concluded that both sides had made mistakes during the November incident, blaming poor information and inadequate co-ordination between US and Pakistani forces on the ground.
The Pakistani military said the report was "short on facts".