Indonesia quake triggers brief tsunami alert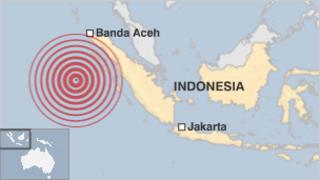 A powerful earthquake struck off the coast of Indonesia's Aceh province, prompting officials to issue a brief tsunami warning.
Residents ran into the streets after the 7.3 magnitude quake struck 423km (262 miles) south-west of Banda Aceh. No damage has been reported.
Officials lifted the tsunami alert two hours later.
A quake off Indonesia in 2004 triggered a tsunami killing 230,000 people around the Indian Ocean. Half were in Aceh.
The latest quake struck shortly after midnight on Wednesday local time (18:37GMT Tuesday) and had a depth of 29.1km (18.1 miles), the US Geological Survey (USGS) said.
The USGS put the earthquake's magnitude at 7.3. Indonesia's earthquake agency initially estimated the quake at 7.6 but later revised it down to 7.1.
In Banda Aceh, sirens blared from mosques and people fled their homes, waiting outside or in some cases heading for higher ground in cars or on motorcycles.
Witnesses said about 100 people gathered on a bridge in the city to see if the quake triggered any significant change in its height.
Patients at a hospital in the town of Seumele were evacuated as a precaution.
Indonesia is prone to seismic upheaval due to its location on the Pacific "Ring of Fire" - one of the most seismically active regions on earth.