Pakistan Supreme Court warns PM Yousuf Raza Gilani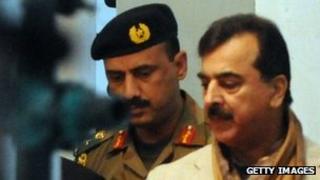 Pakistan's prime minister could be disqualified from office for not reopening corruption cases against top politicians, the Supreme Court says.
A panel of senior judges suggested Yousuf Raza Gilani was not an honest man and had violated his oath.
Relations between Pakistan's civilian government and the judiciary are tense.
In 2009 the Supreme Court overturned an amnesty protecting President Zardari and hundreds of other politicians from being prosecuted for corruption.
There are still court cases pending in Pakistan against Mr Zardari, who spent years in jail after being indicted for corruption, charges he says were politically motivated. His office currently provides him with immunity from prosecution.
Former President Pervez Musharraf brought in the amnesty by decree in 2007. It was aimed at a possible power-sharing deal with Mr Zardari's late wife, Benazir Bhutto.
She returned to Pakistan from abroad after the so-called National Reconciliation Ordinance (NRO) was signed into law, but was assassinated soon after. Subsequent elections swept her Pakistan People's Party to power.
PM 'not honest'
Critics of the amnesty say it is illegal to help so many politicians and officials to escape prosecution for alleged wrongdoing.
The Supreme Court said the government had failed to implement its ruling.
"The government is not taking interest to observe the order for the last two years," it said. "The court has taken an oath to defend the constitution. The prime minister respected the party over the constitution.
"Prima facie... he may not be an honest person on account of his not being honest to the oath of his office."
The government has resisted re-opening the cases covered under the amnesty, insisting that as far as they are concerned, it is a closed chapter.
The BBC's Shahzeb Jillani says the strongly-worded remarks by senior judges have confirmed what many in Pakistan have been fearing for some time: that the civilian government and Pakistan's top court are on a collision course.
The stand-off comes amid a growing rift between civilian and military leaders.
Many in Pakistan feel the pressure on President Zardari's government could leave him with no choice in the end but to call an early election, our correspondent says.
The next general election is due by early 2013. Mr Zardari's term runs out later that year.