Kazakhstan riot town Zhanaozen can go to the polls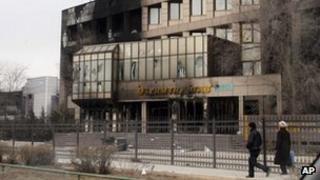 A move to cancel elections in an oil town in Kazakhstan where deadly riots took place last month has been overturned, the president has said.
The office of President Nursultan Nazarbayev said that he did not want the residents of Zhanaozen to be denied their constitutional rights.
Sixteen people died and more than 100 were injured in clashes between striking oil workers and the police.
The authorities introduced a state of emergency during the unrest.
The opposition claimed at the time that the election had been cancelled in Zhanaozen because the governing party was afraid that it would not win any votes there.
There is a strong police and military presence in Zhanaozen where a seven-month long strike by oil workers erupted into bloody clashes with the police in December.
Many of the 16 people killed were shot dead by the security forces.
The BBC's Rayhan Demytrie in Almaty says that violence was the worst to have hit Kazakhstan in the 20 years since its independence from the Soviet Union.
Correspondents say that it has also shattered the country's image of stability so valued by the president, who over the last 20 years has prioritised economic growth and market reforms over democracy in Central Asia's largest economy and oil producer.