Indian milk widely 'contaminated' with added substances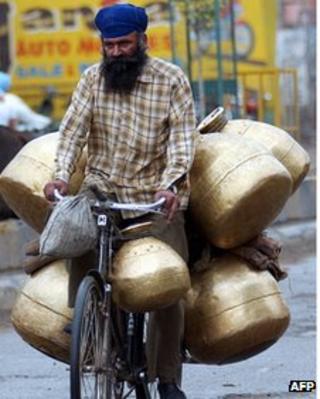 More than two-thirds of Indian milk is adulterated with items ranging from salt to detergent and may be unsafe to drink, a government watchdog says.
The Food Safety and Standards Authority of India conducted a survey in 33 states and found that 68.4% of 1,791 milk samples was contaminated.
Among the substances found in milk were milk powder, fat, glucose and water.
In urban India, nearly 70% of samples were found to be contaminated, compared with 31% of samples in rural areas.
The survey said that only two states - Goa and Pondicherry - sold unadulterated milk, while all 250 samples from four eastern states were found to be contaminated with detergent.
Centre for Science and Environment (CSE) spokesman Chandra Bhushan told the BBC that the survey was important because it was the first time that such findings had been released by a government agency rather than by non-governmental organisations (NGOs).
"It means the government has been accepting that we have been drinking adulterated milk,'' he said.
Mr Bhushan said the survey was also significant because it was one of the biggest ever to have been completed in the country - taking 1,800 samples from 33 states and union territories.
He demanded that the government should conduct similar surveys on other edible goods.
India is not the only Asian country to have been hit by contaminated milk scandals - in China, the use of melamine in milk in 2008 killed six babies and made 300,000 ill.