Afghanistan: Police killed in Sharan firefight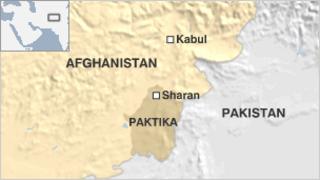 Two policemen were killed when insurgents stormed a government building in south-eastern Afghanistan, officials say.
Three assailants are also said to died in the assault on the government building in Sharan, the capital of Paktika province.
Officials say security forces are trying to secure the building.
Meanwhile in eastern Kunar province, three Afghan soldiers were killed and 13 injured in a rocket attack.
Gen Zahir Azimi told the BBC that the rockets were fired from the Pakistani side of the border. Security officials say that Afghan forces fired back.
The BBC's Bilal Sarwary in Kabul says that it is thought to be the first time that Afghan forces have retaliated after such an incident.
Intelligence target
In Paktika, a spokesman said that the attack had been carried out by four "suicide attackers". At least three of the attackers were killed.
"Our forces are trying to move slowly because there are civilian employees inside," said Mokhlis Afghan, a spokesman for the Paktika governor.
A senior security official in Sharan told the BBC that the attackers "wanted to take over the building and use it as a launching pad to attack other government buildings.
"They came with enough ammunition to fight for hours."
Provincial Governor Muhibullah Samim told AFP news agency that the building the attackers wanted to target was an intelligence office close by.
Haji Baazjan, a local tribal elder who witnessed the attack, told the BBC: "I was about to enter the building when attackers opened fire on the guards.
"Everyone, including myself, started running. As both sides exchanged fire, I heard an explosion and in a matter of seconds, there was heavy fighting."