Cambodia Khmer Rouge trial judges argue in public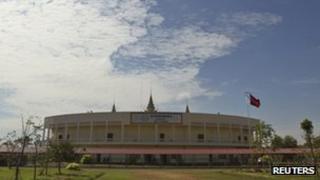 Two judges at a war crimes court in Cambodia have argued publicly about opening investigations into people suspected of crimes against humanity under the Khmer Rouge regime.
A Swiss judge angrily accused his Cambodian counterpart of stopping him from revealing key information about two cases opposed by the government.
Up to 2.2 million people died during the Khmer Rouge era (1975-1979).
It is the latest row between judicial officials at the UN-backed court.
The BBC's Guy Delauney in Phnom Penh says that their quarrelling was all the more extraordinary because it was openly conducted in public.
Rebuke
Under supreme leader Pol Pot, the Khmer Rouge tried to build a Maoist peasant utopia, but descended into genocide as paranoid leaders sought to eliminate anyone who threatened them.
On Monday afternoon, the international co-investigating judge issued a statement to the media. Laurent Kasper-Ansermet said he was unable to provide updates on the progress of investigations because his Cambodian counterpart You Bunleng would not agree to it.
The Swiss - who took on the role after a German judge resigned unexpectedly in October citing political opposition to further prosecutions - was rebuked by his Cambodian counterpart, who an hour later released a statement of his own.
You Bunleng accused his colleague of trying to conceal his comments from Cambodian officials by releasing them on a national holiday.
He said Mr Kasper-Ansermet was not legally accredited and lacked understanding of the legal principles of the tribunal's work.
The two men are supposed to be working together to investigate cases of people believed to have been responsible for the deaths.
The Swiss judge arrived in Cambodia four weeks ago, but the body has yet to convene, paralysing the work of the co-investigating judges.
Observers said Monday's terse exchanges have dimmed hopes that Mr Kasper-Ansermet could break the logjam.
A second trial involving the regime's three most senior surviving leaders is due to resume on Tuesday.
It has so far completed just one case - jailing Kaing Guek Eav, a former Khmer Rouge prison chief, for 30 years in July 2010 for overseeing the deaths of 15,000 people.