China accused by Philippines of Spratlys intrusion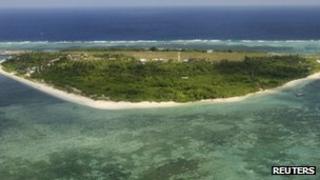 The Philippines has accused China of intruding into its waters around the disputed Spratly islands after three ships were spotted in December.
A Chinese naval vessel and two other Chinese ships were seen near the Sabina shoal on 11 and 12 December, the foreign ministry said in Manila.
China's charge d'affaires was summoned on Thursday to hear a formal protest.
Six countries dispute the area in the South China Sea, which is believed to contain huge deposits of oil and gas.
Along with China and the Philippines, they are Brunei, Malaysia, Vietnam and Taiwan.
Philippine regional military commander Lt Gen Juancho Sabban said a Philippine navy patrol ship and an air force plane had kept watch from a distance until the Chinese vessels left the country's territorial waters.
The three had apparently come from the Chinese-occupied Mischief Reef.
"We were watching them," the commander told the Associated Press news agency.
"They did not drop anchor or unload construction materials and appeared to be just passing through."
There was no immediate, direct response from China, but a deputy foreign minister, Liu Zhenmin, said in Beijing that the situation in the South China Sea was "peaceful and stable".