Afghan inmates 'abused' at US-run Bagram prison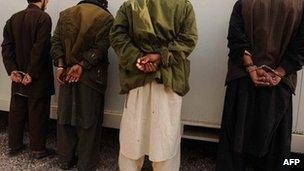 Afghan investigators have accused the US Army of abusing detainees at its main prison in the country, saying inmates had reported being tortured and held without evidence.
The findings come days after President Hamid Karzai called for the facility at Bagram air base to be handed over to Afghan control within a month.
The move surprised the US, which had been working with the Afghans on a phased handover over two years.
The US says it will examine the claims.
"We take seriously and investigate all allegations of detainee abuse," a spokesman for the US embassy in the Afghan capital, Kabul, said.
The head of the commission investigating abuse accusations, Gul Rahman Qazi, said prisoners had complained of abuse including beatings, humiliating body searches and being exposed to extreme cold.
"During our visit to Bagram some of the prisoners talked of misconduct, some alleged they had been tortured," he told a news conference in Kabul.
He cited the case of 71-year-old Abdul Jabar, who said he had been held in a pitch-black room and lost a tooth after being punched.
"There was no evidence of torture on prisoners' bodies, but they claimed that they had been tortured," Mr Qazi said.
Bagram prison, officially known as the Parwan Detention Center, is located in one of the largest military bases for Nato-led forces fighting in Afghanistan and holds 3,000 detainees, including terror suspects.
The Afghans control some 300 of the detainees.
The status of detainees held there is a key issue in negotiations on the withdrawal of foreign troops from Afghanistan.
On 5 January, Mr Karzai demanded that the prison should be transferred to Afghan control within a month, and set up the commission to investigate the handover.
It was the latest step in the deteriorating relationship between Mr Karzai and Washington. He has been angered by discussions the US and other Afghan stakeholder have had on the possibility of the Taliban opening an office in Qatar, as a base for future peace talks.
The US responded to Mr Karzai's demand by saying it had been working "for some time with the Afghan government on appropriate timing and pace for transfer of the detention facilities".
"We need to do this in a manner that is maximally responsible. That's what we want to do. And we're going to... keep working on it," said US State Department spokeswoman Victoria Nuland.
Mr Qazi said the transfer should take place "as soon as possible", but added that how the jail was maintained under Afghan control was also an "important issue".
"The Afghan side should work on it seriously and with full responsibility," he said.