Deadly mushrooms cooked by chef for co-workers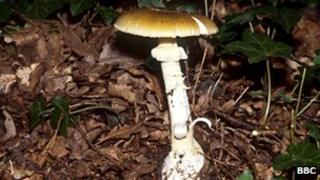 The death cap mushrooms that killed two people in Australia were prepared by a chef for his co-workers, officials say.
Liu Jun, 38, cooked the private dinner for colleagues on New Year's Eve at the Chinese Bistro in the Harmonie German Club in Canberra.
Both he and kitchen hand Tsou Hsiang, 52, died in hospital in Sydney.
Another colleague has been discharged from hospital after treatment and a fourth guest did not eat the deadly fungi, local media reported.
Health officials said that another person treated for mushroom poisoning in the Royal Prince Alfred Hospital in Sydney was a separate case.
Media reports had initially linked this fourth case to the three from the Canberra bistro.
The Australian Capital Territory Health Directorate has inspected the premises to ensure there are no more toxic mushrooms left.
It said it found no risk of wider contamination or exposure to the public.
''It was not a meal on the bistro menu, and was not a meal that was offered to or available to the public," the club's acting manager Mick Thamer told reporters.
'Mistaken identity'
The bistro is closed until further notice.
"This was just a one-off and an unfortunate mistake with dire consequences for two people,'' Mr Thamer said. ''Everyone is devastated.''
It is believed that Mr Liu could have mistaken the poisonous death cap mushrooms for the Paddy Straw mushroom. The latter is an edible fungi that is commonly found in Asia and considered a delicacy.
"It's just mistaken identity. Liu Jun would have been walking past it, picked it up," Tom O'Dea, a friend of the late chef, told ABC Radio.
According to the Australian National Botanic Gardens, the death cap mushroom can be found in many Canberra suburbs, usually near oak trees.
It is also common in Melbourne suburbs and in some Victorian country towns.
Eating the mushrooms can cause stomach pains, vomiting, diarrhoea and jaundice. Liver and kidney failure can also occur.
Mr O'Dea added that the Chinese community in Canberra is in shock over the tragic incident.
Mr Liu was working temporarily in Australia to send money home to his family in China. This was supposed to have been his last year there.
"He's got an 11-year-old daughter and a seven-year-old son,'' said Mr O'Dea. ''They haven't seen him for three or four years or something since he's been here because he's just been working and sending money home.''