Cambodian former anti-drug chief jailed for trafficking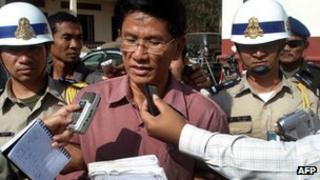 A Cambodian court has sentenced an anti-drug agency chief and his aide to life in jail.
Moek Dara, former head of the National Authority for Combating Drugs, and Chea Leng were convicted for being involved in 32 cases of drug trafficking.
They were also convicted of accepting bribes from drug dealers.
The court in northwestern Banteay Meanchey province ordered them to pay fines of more than $220,000 (£141,270) and more than $20,000 respectively.
A third official, Morn Duem, who remains at large, was also sentenced to 25 years in jail, prosecutor Phann Vanarath told AFP.
The court, located about 350km north-west of the capital Phnom Penh, has ordered properties from all three defendants to be confiscated.
The South East Asian country has intensified its fight against drug trafficking recently. Hundreds of arrests, including those of high-level officials, have been made.
Last year, two senior army generals were arrested for allegedly trafficking methamphetamine.
"The verdict is a key message to corrupt people," Phann Vanarath said.