Indonesia outrage at boy's conviction for sandal theft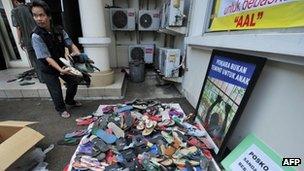 Indonesians have been expressing outrage at the conviction of a teenage boy for stealing a pair of sandals.
The 15-year-old boy was facing a possible five-year jail sentence but the court on the island of Sulawesi instead ordered that he be sent home.
Many Indonesians have been leaving sandals at police stations in protest.
Many say it is unfair that corrupt officials are treated leniently by the courts, while those without money or influence can receive severe sentences.
Hundreds of people packed the court room as the sentence was handed down, leading to howls of protest from many of those who had gathered.
"Based on evidence and witness testimonies, we found him guilty... of committing a theft," Judge Rommel Tampubolon told Palu district court.
"But considering his age, we decided to send him back to his parents," he added.
The boy, who cannot be named because of his age, said he thought the sandals had been abandoned outside a boarding house that was used by police.
He says that six months later he was accused of theft by a police officer who beat him with a piece of wood until his legs bled.
"The policemen slapped and beat us. I fell into a ditch and got bruises on my face and legs", the boy told AFP news agency.
"This action of solidarity by the public shows that they disagree with the criminalisation of juveniles, that it goes against a sense of justice," Arist Merdeka Sirait, chairman of Indonesia's Child Protection Commission, told AFP.