Taiwan opposition alleges state surveillance ahead of election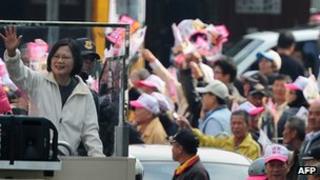 Taiwan's opposition party has demanded a probe into alleged surveillance of its presidential candidate by security and intelligence units.
The Democratic Progressive Party says that the campaign activities of Tsai Ing-wen have been subjected to illegal snooping using public resources.
The president and the government units have denied the allegations.
The 14 January vote pits Ms Tsai against President Ma Ying-jeou. Opinion polls indicate an extremely tight race.
"In a democratic society if the president directs the intelligence services to monitor a rival's campaign, that would be a very serious matter," Ms Tsai said.
She added that the surveillance allegations raised questions about Mr Ma's oft-repeated promise to keep Taiwan's intelligence services out of politics.
The two agencies accused - the National Security Council and the Intelligence Bureau - have issued statements saying it is common practice to monitor candidates' activities to ensure their safety. They insisted none of the information was given to President Ma.
The allegations were first raised last week by Taiwan's Next Magazine, which said National Security Council Secretary General Hu Wei-chen instructed justice ministry investigators to monitor Ms Tsai's activities in May after she became a presidential candidate. Mr Hu reports directly to Mr Ma.
The magazine published the names of 28 justice ministry officials it alleged were involved in monitoring Ms Tsai.
The Democratic Progressive Party says that intelligence officials were also asked to assess how many votes her key supporters could bring in. It said this violated election laws and was a "step backwards" for the island's democracy.
The two intelligence agencies have not explained why they allegedly gathered information about potential votes Ms Tsai could get from her supporters, says the BBC's Cindy Sui in Taipei.
Improving ties
The president has denied receiving any information about Ms Tsai. His campaign spokesman has said that the allegations were without evidence and irresponsible.
The jostle between the two candidates is being closely watched by the US and China.
Our correspondent says that Taiwan's relations with China could take a turn for the better or the worse depending on who is elected.
Mr Ma is focusing on improving ties with Beijing first so as to enable the island to sign trade and other deals with other countries. Ms Tsai advocates building stronger ties with other countries, to avoid over-relying on China.
Beijing considers Taiwan its province despite the island ruling itself since the end of the civil war in 1949. China has targeted 1,500 missiles at Taiwan as a warning against declaring formal independence.