India carmaker Bajaj unveils Tata Nano rival, the RE60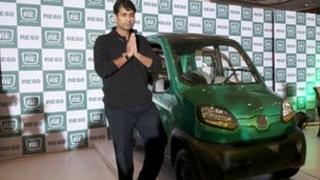 Indian manufacturer Bajaj Auto has unveiled a low-cost car expected to go up against the world's cheapest - the Tata Nano.
The RE60 - Bajaj's first foray into the four-wheel market - was unveiled in Delhi and pitched as a solution to pollution and congestion.
The firm said the car had high fuel efficiency and low carbon dioxide emissions. It did not reveal the price.
Bajaj Auto is best known for scooters and three-wheel auto-rickshaws.
It is India's second-largest two-wheeled vehicle maker and is world leader in three-wheeled vehicles.
'Whole spectrum'
"At Bajaj Auto, we believe the people of this planet deserve much better, much faster," managing director Rajiv Bajaj said.
"In the RE60, we believe we have an excellent solution for the mobility challenges arising from the rapid urbanisation of India."
The 200cc car will do 35km (22 miles) per litre of fuel and emit just 60 grams of carbon dioxide per km, the company said.
The four-seater has a top speed of 70km/h (43mph) and will go on sale some time this year.
Motoring writer Murad Ali Beg told the BBC that the car was expected to be competition for the world's cheapest car, the Tata Nano.
"The RE60 shows that the Bajaj group is moving from two-wheelers and three-wheelers to four wheels now. This way they plan to cover the whole spectrum of vehicles."
Mr Beg says that "considering the popularity of auto-rickshaws in India, the low-cost car is bound to do well".