Arrests over pig heads found at Malaysian mosque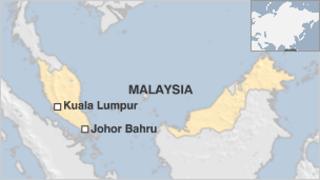 Four people have been arrested by Malaysian police in connection with nine pig heads found outside a mosque in southern Malaysia.
The pig heads, wrapped in plastic bags, were left on two separate occasions at a mosque in Taman Desa Jaya in Johor Bahru last week.
The reason for the incident remains unclear.
The suspects are being investigated for inciting religious hatred, as pigs are considered unclean by Muslims.
Non-Muslim politicians have denounced the act and have urged the public to remain calm while the investigation is ongoing.
The incident is seen as the most provocative in two years, said the BBC's Jennifer Pak in Kuala Lumpur.
Dozens of churches and Muslim prayer halls were attacked in 2010 in an ongoing dispute between the Muslim majority and Christians over the use of the word Allah.
Since then, Christians have been accused of targeting Muslims to convert to Christianity, which is illegal in many states.