South Australia heat wave leads to fire warnings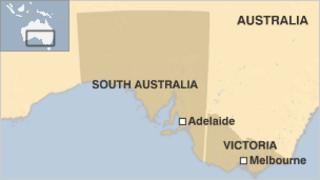 Fire bans have been declared and bushfire warnings issued in southern Australia, amid soaring temperatures.
South Australia has been hit by its hottest start to the year in a century, ABC news reports, with temperatures in some places passing 40C.
On Monday electricity supply was cut to one area to prevent power lines igniting bushfires.
The power company said more cuts remained a possibility if the hot weather continued.
"We take very seriously the decision to turn off power," Paul Roberts, a spokesman for Etsa Utilities (Electricity Trust of South Australia), told ABC News.
"In the case for yesterday, we had a situation where the fire conditions were escalating, very strong winds and we had reports through the CFS (Country Fire Service) of trees down, and that can cause a major problem in bringing down electrical infrastructure."
Prime Minister Julia Gillard urged residents to heed fire warnings.
"There are a lot of emergency workers who are on high alert today due to the extreme weather conditions in parts of Australia and the extreme heat," she said.
The heat wave has affected several areas in South Australia and Victoria. Severe fire warnings are in place for four districts in South Australia and one in Victoria.
Thunder storms are forecast for the area later in the day, but fire officials warned that lightening could spark bushfires.