Iranian border guards detained in Pakistan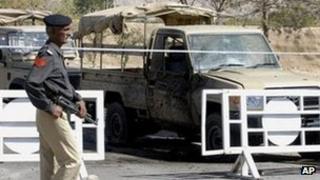 Pakistani police have detained three Iranian border guards after they allegedly crossed the border, killing one man and wounding another in a car they had been chasing, officials say.
Police say the guards were arrested on suspicion of entering Pakistan and killing a Pakistani national.
One report suggests the men were being pursued because they were involved in cross-border smuggling.
There has been no comment on the incident as yet from Iranian officials.
It happened in an isolated border area of Pakistan's Baluchistan province and Iran's Sistan-Baluchistan region. Details about the sequence of events are unclear.
Pakistani officials say the Iranian guards pursued the men into Pakistan and were trying to take them back to Iran.
Iranian forces opened fire on the vehicle the men were travelling in, police allege.
"Both Pakistanis were injured and one later died. Pakistani troops at the border surrounded the Iranians and have taken them into custody," Saeed Ahmad Jamili a local police official told the AFP news agency.
It is unclear whether the guards were detained and the Pakistani men retrieved on Pakistani or Iranian soil.