Pakistan journalists 'threatened by security' personnel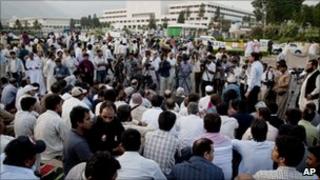 Two senior Pakistani journalists say they have received threatening messages after raising questions over the military's role in their respective television shows.
Both suspect the threats have emanated from Pakistan's powerful security establishment and its premier intelligence service, the ISI (Inter-Services Intelligence).
The ISI was widely accused of killing a local journalist, Saleem Shehzad, in May 2011.
It vehemently denied the charge.
Journalists' organisations say at least 29 journalists have been killed in Pakistan during the last five years, many of them specifically for their work.
Messages
A senior journalist, Najam Sethi, disclosed at a television talk show on Wednesday night that he had received "serious" threats from "both non-state and state actors".
He said if these threats did not cease, he would be "compelled to take names of the organisations and officials" who were behind them.
Without naming any intelligence service, he said its operatives were "in touch with and threatening several other senior journalists".
"We did not speak about this before because we did not want to destabilise things, but the time has come when all of them should come forward and speak about it publicly," he said, speaking in Urdu.
"This is not the age when the intelligence operatives should be threatening their own civilians. A state within the state is not acceptable," he said.
Mr Sethi is the main analyst at a late night news show on Pakistan's Geo TV in which he has been offering comments critical of the military's role.
His disclosure comes a week after another senior journalist, Hamid Mir, sent out an email to journalists' bodies around the world claiming that he had been receiving threatening messages from what he called "the security establishment".
Mr Mir is the host of Geo TV's popular talk show, Capital Talk.
The New York-based Committee to Protect Journalists (CPJ) released the text of Mr Mir's email last week, which contains the text of an SMS message he had received.
According to Mr Mir, the SMS read, "I have not seen a real bastard than you. I wish somebody comes and strips you naked. I hope some army man has not done real dirty with your dear ones."
Mr Mir wrote in his email that these threats have emerged following two talk shows he did which contained critical comments about the military.
"I am sure that the security establishment of Pakistan is once again angry with all those who raise questions about the political role of the army," he wrote.
He added: "If anything bad happens to me or my dear ones, the security establishment will be responsible."
A commission constituted to investigate the May 2011 killing of journalist Saleem Shehzad is investigating the role of the ISI, among others, as a possible suspect in the case.
Journalists working on security-related issues say they have always been threatened and intimidated by the intelligence agencies and have often been forced to under-report "sensitive" issues.
But in recent months, they have increasingly spoken out in public on the issue.