Afghan policemen killed in Helmand by roadside bomb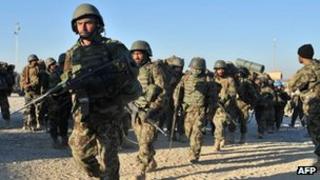 A roadside bomb has killed at least 10 police officers in the south-western Afghan province of Helmand, police say.
Thursday's explosion destroyed a police truck as it drove through a village in Nad Ali district, officers said.
The police were leaving a training centre when their vehicle was hit. The Taliban have said they carried out the attack.
Separately, France says an Afghan soldier has shot dead two French foreign legion members in the east.
'Recruits were victims'
The police officers killed by the bomb were leaving a training centre when their vehicle was hit.
Some of those killed were reported to be new recruits. One other policeman was injured by the blast.
Last month President Hamid Karzai said that Nad Ali - which has seen heavy fighting between insurgents and British forces - was being handed over to Afghan control.
Correspondents say that the dead policemen were members of the US-funded Afghan Local Police (ALP) force set up last year to play a key role in providing security as Nato forces begin withdrawing from Afghanistan.
The ALP provides arms to local people to protect their communities in areas where the Afghan army and regular police have limited reach.
Critics describe it as little more than a militia, but Nato says that it helps to bolster security in rural areas.
British forces have been operating in Nad Ali since 2006. They recently said that the joint security effort had led to an 86% drop in violence this year compared to 2010.
The two French servicemen - both non-commissioned officers - were killed as they took part in a support mission with the Afghan army in the Tagab valley.
The shooting is the latest in a series of attacks by members of the Afghan security forces against their coalition partners, raising fears of increased Taliban infiltration.
There is no information on what happened to the attacker.