Volcanic mudflow kills three in eastern Indonesia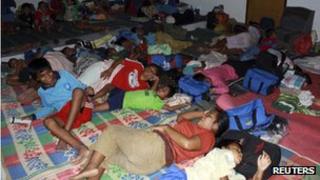 At least three villagers have died and thousands more have been displaced by volcanic mudflow in eastern Indonesia.
A government spokesman said heavy rains caused cold lava and debris to flow into villages near Mount Gamalama in Ternate, Maluku province on Tuesday.
The volcano erupted on 4 December but there were no casualties at the time.
Recent eruptions of the 1,700m-high volcano were recorded in 1980, 1992 and 2003, according to state news agency Antara.
"Three people were killed in the lava mud flow and at least 2,561 villagers have been displaced," Sukarjan Firto told AFP news agency. "They are now being sheltered in several government offices."
There are dozens of active volcanoes on the Indonesian archipelago.
At least 350 people died and 250,000 were displaced when Mount Merapi in central Java erupted last year.