Will Phnom Penh ever get a bus system?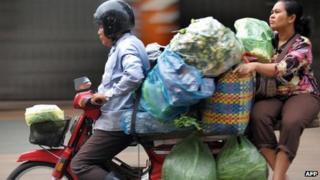 Most people know the frustration and boredom of waiting for public transport. But woe betide the unwary traveller who sits down at a bus stop in Phnom Penh.
The signs are there, detailing the routes around the city, and so are the metal barriers for would-be passengers to lean against.
But they would find themselves waiting for a service that would never come.
The bus shelters are a relic of the last time the city authorities tried to launch a service back in 2001.
The Japanese development agency, JICA, brought in retired vehicles from Osaka's municipal fleet and provided technical assistance.
But the project lasted just a matter of weeks before the experiment was scrapped. Phnom Penh rejoined the ranks of capital cities without a formal public transport system, and it has been that way ever since.
Wild ride
The main issue seems to have been reluctance on the part of potential passengers to make their way to and from the bus stops. As the governor of Phnom Penh once quipped: "My people don't like to walk."
Yim Sokly is an architect specialising in urban development and heritage. He said that in the scorching heat of Cambodia, trekking to the main roads where the bus services ran was unpleasant and dangerous.
"City Hall only put the bus system on the main road. You had to walk 15 to 20 minutes without trees, without pavements, and you had to be careful of all the cars that could hit you at anytime. So the preferred system was moto-dup."
Moto-dup is the Cambodian term for a motorbike taxi, still the most common kind of informal public transport.
The system is cheap and convenient. Drivers congregate on street corners or opposite markets, many of them sitting astride elderly Korean Daelim mopeds, which make up for their lack of style with an extended pillion seat that can easily accommodate two passengers.
It might be a rather precarious perch for the customers, but it is a door-to-door service, with no waiting or walking required.
But travelling by moto-dup is becoming increasingly unpleasant and dangerous, as Phnom Penh becomes more prosperous and its roads fill up with cars and SUVs.
"I'm only getting this moto-dup because it's all I can afford," said one middle-aged shopper, as she emerged from Phnom Penh's Old Market with baskets of groceries, then settled herself side-saddle on the back of a faded red Daelim.
"It's not safe. I'd go by car if I had the money, and I'd certainly give a bus a try if the city provided one."
It looks as though her wish may be granted. The municipal authorities have called for proposals for a bus service and they are also looking into the feasibility of trams.
Regional influence
As the former country manager for UN Habitat, Somethearith Din used to advise the authorities on urban development issues, including public transport.
He thinks that after all this time, the people of Phnom Penh may finally be ready to trade their moto-dups for buses.
"Recently, the city has enlarged to the suburbs very quickly. They're mostly lower-income people there and they really need public transport because other options cost too much for them," he said.
"So maybe this time the bus system will work. But it has to stretch out to the suburbs and the authorities have to do more to make the city more pedestrian-friendly."
Mr Yim Sokly has a vision of wide, unobstructed pavements shaded by overhanging trees.
That is the sort of thing which makes Singapore's main drag, Orchard Road, such a pleasant place for a stroll, and with increasing numbers of Cambodians making trips to other cities in the region, the influence may be starting to rub off.
"If we had public transport like in Bangkok or Singapore, I would love it and throw away all my motorbikes," he said.
But he points out that even if buses were successfully introduced, it may not mean the end of Cambodia's love affair with the humble motorbike taxi.
"Bangkok is a similar case to Phnom Penh. They have the Skytrain and buses, but only along the main roads. On the small roads in between, people still jump on a moto-dup."