Russian boat Sparta in Antarctic sails for open water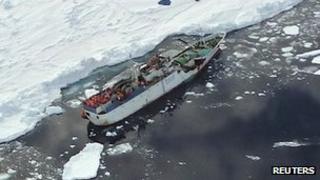 A Russian fishing boat is now making its way to open water after being stuck in ice-filled waters off Antarctica for 12 days with a hole in its hull.
New Zealand officials said that the Sparta began navigating 160km (100 miles) of sea ice after repairs were finished on Wednesday.
A South Korean icebreaker ship, the Araon, reached the Sparta on 26 December to offer assistance.
Both ships are expected to clear the ice pack later on Wednesday.
The Sparta will then head to the New Zealand port of Lyttelton where permanent repairs will be done, said rescue centre spokesman Chris Henshaw.
According to the Rescue Co-ordination Centre New Zealand (RCCNZ), repair work carried out on the Sparta included transferring fuel and welding plating onto the ship to make it seaworthy.
"The inside of the (hull hole) has been all fixed up," Mr Henshaw told New Zealand radio.
Other vessels attempted to rescue the Sparta - which hit an iceberg and issued a distress call on 16 December - but heavy ice prevented them from doing so.
A Hercules aircraft was previously flown over the site but officials said the plane could not pick up the crew.
While waiting for help, the crew threw cargo overboard to lighten the ship and raise the hole in the hull above the water line.
The Sparta has a crew of 15 Russians, 16 Indonesians and one Ukrainian.