Red Cross mourns loss of Briton killed in Sri Lanka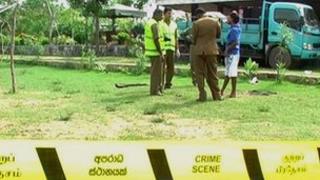 A British man killed on holiday in Sri Lanka has been described as a "committed" Red Cross worker.
Khuram Shaikh, 32, of Milnrow, Greater Manchester, was a physiotherapist for the International Red Cross in Gaza.
He died early on 25 December after an attack on him and a colleague in the tourist resort of Tangalle. Four people have been arrested.
The Red Cross said it was "deeply shocked... and grieved by the loss". His colleague remains in hospital.
Mr Shaikh was the manager of the Red Cross's physical rehabilitation programme in Gaza, providing prosthetics for people who have lost limbs, the International Committee of the Red Cross (ICRC) said. He had been there since September 2010.
A spokeswoman at the Jerusalem office said: "He went on holiday to Sri Lanka with a colleague and unfortunately this has happened.
"We are deeply shocked and the International Committee of the Red Cross is grieved by the loss. He was a very committed member of the Red Cross team in Gaza, the West Bank and Jerusalem."
A post-mortem examination showed Mr Shaikh had been attacked by a sharp weapon and shot, police said earlier.
His colleague, Russian Victoria Alexandrovna, 23, was being treated in Karapitiya hospital, Galle.
The ICRC spokeswoman added: "We cannot give any specific details of the circumstances of what happened because the criminal investigation is taking place.
"We are in contact with the local authorities and will follow it up with them."
She added that the organisation is making efforts to support Mr Shaikh's parents and his colleagues in Gaza.
There are also efforts under way to assist the family of Ms Alexandrovna.