South Korea ex-First Lady Lee Hee-ho meets Kim Jong-un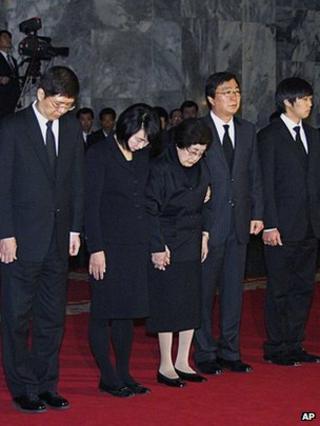 South Korea's former First Lady Lee Hee-ho has met the North's designated new leader Kim Jong-un during a trip to Pyongyang, Seoul officials say.
Mrs Lee, 89, had a brief meeting with Kim Jong-un during a visit to offer condolences for the death of his father, Kim Jong-il.
Seoul insists that she is on a private trip, and is not carrying any message from the government.
State media have portrayed Kim Jong-un as leader since his father's death.
The Rodong Sinmun newspaper has described Kim Jong-un as the head of the Workers' Party Central Committee, meaning that he now controls one of the country's highest decision-making bodies.
The newspaper earlier gave him the title of "supreme commander" of the armed forces.
Communist dynasty
Seoul has allowed only two private delegations to travel north to pay their respects, and will not be sending any officials to the funeral.
The South's unification ministry said Mrs Lee met Kim Jong-un for only about 10 minutes.
A second delegation, led by Hyundai chairwoman Hyun Jung-eun, also met the presumed new leader.
The BBC's Lucy Williamson in Seoul says whatever was discussed, the meetings are another sign of Kim Jong-un's growing profile.
It is believed to be the first time he has met such prominent South Koreans.
Both women have strong connections with the North.
Hyundai was at the forefront of efforts to build business ties with the North, and Mrs Lee's husband Kim Dae-jung pioneered what became known as the Sunshine Policy, trying to engage the North through diplomacy.
Mrs Lee met Kim Jong-il during a landmark summit in 2000, and said in a statement that she hoped her visit would help to improve relations on the peninsula.
"As chairman Kim Jong-il sent a condolence delegation to Seoul when my husband passed away in 2009, I believe it is our duty to express our condolences," she said.
North Korea is trying to carry on the world's only Communist family dynasty.
Kim Jong-il inherited power from his father Kim il-Sung in 1994 after more than two decades being primed for the role.
However, his son Kim Jong-un is still in his 20s and has very little political experience.
Analysts say he will be surrounded by a group of experienced military insiders and relatives, as the Pyongyang elite attempts to hold on to power.