Deadly suicide attack on Afghanistan funeral in Takhar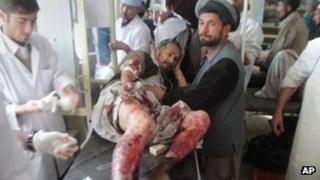 At least 22 people, including a prominent MP, have been killed in a suicide bombing at a funeral in north-eastern Afghanistan, officials say.
Fifty people were also hurt when a man detonated his explosive vest as prayers were about to be said at the funeral in Taloqan, a city in Takhar province.
Local MP Mutalib Beg, a former commander in the Western-backed Northern Alliance, died at the scene.
Takhar has seen a series of high-profile attacks over the last year.
In May, the police commander for northern Afghanistan was assassinated in a suicide bomb attack on the provincial governor's compound.
'Target'
Intelligence and security officials told the BBC that Sunday's suicide attack took place at about 12:00 (07:30 GMT), as people gathered for the funeral of a government official in Taloqan.
The interior ministry said most of the casualties were civilians.
There are reports that other senior officials were also at the funeral.
The governor of Takhar, Abdul Jabar Taqwa, said that like Mutalib Beg he had been invited to the funeral, but decided not to attend.
"The target was either me or the MP," he told the AFP news agency.
An ethnic Uzbek, Mr Beg represented the province in the lower house of parliament, the House of the People.
He was a former commander of the Jamiat-e-Islami party, part of the Northern Alliance - the faction that fought against the Taliban.
He also once served as police chief in the neighbouring province of Kunduz.
No group has said it carried out the attack, but the BBC's Bilal Sarwary in Kabul says an al-Qaeda affiliated group called the Islamic Movement of Uzbekistan (IMU) operates in north-eastern Afghanistan.