Six killed in Pakistan suicide car bombing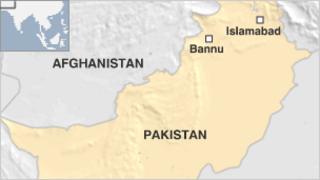 A suicide car bomb attack has killed six people, including five soldiers, and wounded at least 12 others in north-west Pakistan, officials say.
The bomber drove a vehicle packed with explosives into the office of the paramilitary Frontier Corps in the city of Bannu.
The troops - known as the Tochi Scouts - are mainly deployed in the unruly tribal areas of north Waziristan.
No-one has so far claimed responsibility for the attack.
"The bomber drove his explosives-packed vehicle into the FC building," local police official Muhammad Shafiq told the AFP news agency.
He added the camp office was damaged in the attack.
Officials said they feared that the death toll would rise further.
Bannu lies on the Afghan border and about 40km (25 miles) east of Miranshah, the main town in North Waziristan.