North Korea 'to admit all South Korean mourners'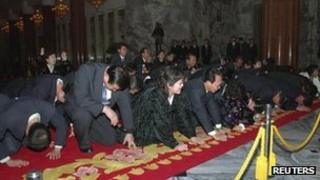 North Korea says it will accept all South Korean delegations wishing to pay respects to late leader Kim Jong-il.
In a statement on a government-linked website, it said this was "a sign of our courtesy" to those who wished to mourn.
South Korea has sent a sympathy message to its northern neighbour, with whom it remains technically at war.
But Seoul says it will authorise only a select group of people to travel north.
Kim Jong-il died on Saturday of a heart attack, state media said. He had led North Korea since his father's death in 1994. His funeral is to take place on 28 December.
His third son, Kim Jong-un, is being hailed by state media as his successor. But regional neighbours fear the transition could bring further instability to the region.
'Grave implications'
North Korea - which isolated on the international stage because of its pursuit of nuclear weapons and dire human rights record - said it would guarantee the safety of South Korean visitors.
It would "respectfully accept all types of South Korean delegations hoping to visit to express condolences and... has taken steps to open all air routes and land routes through (the border town of) Kaesong", the statement said.
An editorial on the same website urged South Korea to think about the "grave implications" of denying its people access to the North during this mourning period.
South Korea says it will not send an official delegation to the funeral. But it is to allow two delegations, one led by the wife of late President Kim Dae-jung and another by Hyundai Group chairwoman Hyun Jeong-eun, to cross the border to pay their respects.
Kim Dae-jung held a summit with Kim Jong-il in 2000, while the Hyundai Group has led cross-border business ties.
Seoul did not send an official delegation when Mr Kim's father, Kim Il-sung, died in 1994.
The BBC's Lucy Williamson, in Seoul, said the North Korean move appeared aimed at putting pressure on the South.
Ties between the two Koreas have been very tense in recent months, following the sinking of a South Korean warship in March 2010 and the shelling of a border island in November 2010.
North Korea denies a role in the first incident and says Seoul provoked the second.
Relations have also been hit by Mr Lee's refusal to offer aid to Pyongyang without progress on the nuclear issue.
But South Korea said on Thursday that it was trying to show no hostility towards the North in a bid to maintain stability. It has decided not to light Christmas tree lights near that demilitarised zone that anger North Korea.
Meanwhile a minute of silence was held at the UN General Assembly for Mr Kim - a tribute that was boycotted by multiple nations.
The tribute was granted as protocol after a North Korean request.